Mexico Knows Mexico. Texts by 50 contemporary prose writers.
Recopilación de / Compiled by Concepción Zayas.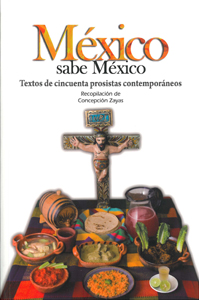 Obra que ofrece una muestra amplia de lo mejor de la literatura producida a lo largo de la segunda mitad del siglo XX en México. Esta antología convoca a más de cincuenta escritores mexicanos, desde los mundialmente reconocidos hasta las jóvenes voces de la actualidad. Entre todos ellos se compone un visión válida del país, su historia y sus diferentes realidades: combinando la erudición del ensayo, las perturbadoras sorpresas del cuento fantástico o lo real maravilloso, junto a fragmentos de novelas casi hiperrealistas. / A book that illustrates the very best in Mexican literature from the second half of the 20th century. This anthology gathers more than 50 Mexican  writers, from the world-renowed to the young voices of today. Together they make up a powerful vision of the country, its history and its different realities- combining erudite essays, the disqueting surprises of fantsay fiction or of the marvellously real, together with excerpts from almost hyper-realist novels.
Participantes / Participants
Ana Clavel, escritora; Agustín Cadena, escritor, traductor, y profesor universitario de literatura. Moderada por Concepción Zayas, escritora y académica. / Ana Clavel, writer; Agustín Cadena, writer, translator, as well as a university lecturer in literature. Chaired by Concepción Zayas, writer an academic.
En colaboraicón con la Embajada de México en el Reino Unido / In collaboration with the Mexican Embassy in the United Kingdom.
JUE / THU 19 MAYO/ MAY. 6:30PM. Auditorio / Auditorium. Instituto Cervantes London.